2023 E1 Summit & Expo
Gain tools, tactics and connections to help you take your startup to the next level from expert entrepreneurs and others from the ecosystem.
When
Apr 24, 2023
from

08:00 AM

to

04:00 PM

Where

Saint Mary's University of Minnesota - Rochester Campus 2900 19th Street Northwest Rochester, MN 55901

Add event to calendar

Outlook/Android




Apple iPhone/iPad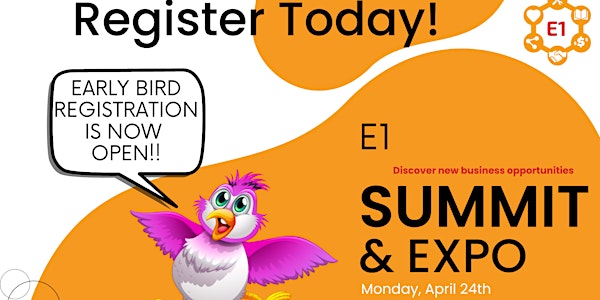 Entrepreneurs know that from concept, to launch, to growth, the roadmap to a thriving business requires a network of resources. The E1 Collaborative (Entrepreneurs First) is the ecosystem that builds and provides those resources in Southeastern Minnesota. During the Summit and Expo, entrepreneurs, small businesses, and others will have access to the tools and resources they need to succeed.
Hear from Entrepreneurial Experts:
Tyrre Burks - Founder of Players Health and the 2022 Entrepreneur of the Year & Keynote Speaker: "Building an Organization that Changes Lives"
Tawonda Burks - Founder of Elocina and leader for the Minority Owned Business Network
Neela Mollgaard - Executive Director of Small Business Development
E1 Partners that support and provide guidance around growth, financing, product development & innovation, and more!
You will walk away with insights into:
Market Research-Where are YOUR customers?
Who has your back? What makes up a well-rounded team even when it's a team of one
5 Legal must-haves and pro-bono attorneys in our network
Access to capital for all industries
ChatGPT AI
Stress Less for Entrepreneurs / Managing health and wellness
Ticket Pricing:
Early Bird Special $25 thru April 9 then $35
Student Rate $10
Entrepreneur ticket with an expo table is $50
Scholarship codes available contact Jocelyn@redwingignite.org
Best in Business Award Categories
Social Impact
Emerging Entrepreneurs
Partners Pick
Sponsorship levels and Benefits:
$2500 Sponsorship of Minority Owned Business Panel (Four complimentary tickets, marketing materials, 2-minute introduction, and an Expo table)
$2500 Sponsorship of the Keynote Speaker (Four complimentary tickets, marketing materials, a 2-minute introduction, and an Expo table)
$1500 Awards Sponsor (Two complimentary tickets, marketing materials, mention in the program, and an Expo table)
$750 Lunch Sponsor (One complimentary ticket, marketing materials, and an Expo table)
$750 Breakfast Sponsor (One complimentary ticket, marketing materials, and an Expo table) 

SOLD

$250 Ecosystem Supporter (One complimentary ticket, marketing materials, and an Expo table)
* If you are interested in becoming a sponsor, please contact Shannan Harris at shannan@redwingignite.org